i told you there would be a lot of postings about this one day.  and there will be a couple of postings of veddw alone, because i couldn't stop taking pictures.
as i mentioned in a previous post, before our trip kevin searched the web for information about hiking in wales.  he came across Charles Hawes' blog, which is full of fabulous photos and writing about the many hikes he takes all over the place.  as i mentioned in my very last post, Charles hiked the entirety of the Wales Coast Path, all 870 miles of it.  kevin wrote to charles, who replied, and charles told him about the garden that he and his wife, Anne Wareham, created outside of Chepstow 25 years ago.
it is the Veddw House Garden, and Anne writes a blog on the garden website, plus she's written a couple of books, and charles invited us to stop by the garden while we were in wales, and they'd have us over for tea.
i read all about both of them, and was excited to plan our trip so  we could visit their garden.  they recommend that we stop in at wyndcliffe court on sunday, and then we'd be at Veddw later in the day, so we'd be there when their garden closed and could visit with them.
so after our rainy slog around wyndcliffe, and then buying all the souvenirs we could get our hands on at the tourist info place in chepstow, we finally made our way to veddw.
this is the beautiful drive down the path to their house.
at the top of the hill was this view of Veddw spread out below, a glorious sight. it was bright and sunny by now, which was how it was supposed to be for our first-ever look at this garden. i certainly hope it won't be our last.

even though i took a  million pictures, i couldn't capture the beauty of these sculptured shrubs.
here's what Anne wrote about this section of garden:
I used the local Tithe Map of 1841 as the basis for a pattern of hedges in box on one slope of this valley. This created miniature fields which we've filled with ornamental grasses – in tribute to both the history of the landscape and to the present views of farmland beyond the garden.
i remember reading about this bench somewhere on their website, but now i can't find it anywhere.
the reflecting pool – isn't it amazing?  they created this whole space!
i've been thinking a lot about anne and charles and veddw now that i've finally manged to write about their garden, almost a year later.  i spend a lot of time in our yard, planting things and transplanting and hacking away at the weeds, and it all takes a lot of time…i can't even imagine how they must have created so much beauty.
i took all of the above photos except for the reflecting pool in the first 10 minutes we were there, as we walked down to their greenhouse.  we briefly met anne and charles, who told us to take our time and look around.
here's just a little bit about anne, from her website.  you should definitely check it out, and of course you should visit their garden if you're in Wales.
or better yet, you should go to Wales to see their garden.  when can we go back?
Anne Wareham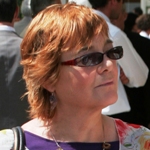 I am a garden writer for newspapers and garden magazines,  and editor of the website thinkinGardens.
I appeared on television as a judge in the series 'Britain's Best Home and Garden' on Channel 5 and Tim Richardson included me in his list ofmost influential British gardeners in the Telegraph, January 2012.
I have been campaigning for the past fifteen years for a renaissance in British gardens, focusing on encouraging serious reviews of gardens and on returning gardens to their place amongst the fine arts in British culture.
My first book, The Bad Tempered Gardener  was published in May 2011 by Frances Lincoln and has been described by the Daily Mail as a 'best seller'. I'm looking forward to the royalties which convince me of that…
My second came out in April 2015: Outwitting Squirrels, and IS a best seller.
I have a garden blog .
And I am generally a thorn in the flesh of the garden world.
more soon.
ok then,
mrs. lucky to have at least seen it the one time hughes.