Look at this cool swan!!!
Isn't it fabulous? Here's what they said about it on their site:
On Thursday, July 7, the Museum welcomed Her Excellency Lone Dencker Wisborg, Ambassador of Denmark to the United States to Osberg Hall to celebrate the arrival of Thomas Dambo's Nordic Swan (2015). Ambassador Wisborg gave a presentation on sustainability and art in celebration of the sculpture's debut in Seattle, where it will reside until 2023.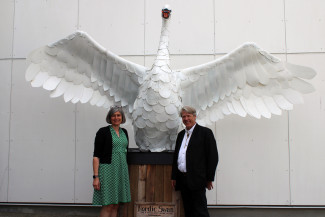 Dambo created this outdoor sculpture of Denmark's national bird from 300 recycled plastic buckets to illustrate the country's commitment to recycling and sustainability. The transformation of trash into a thing of beauty communicates the potential of discarded materials and recalls the story of The Ugly Duckling, penned by Hans Christian Andersen in the 19th century. Today, the swan is also symbolic of environmentally friendly products due its use as an ecolabel introduced by the Nordic Council of Ministers in 1989 and widely recognizable to Nordic consumers today.
Nordic Swan (2015) is supported by the Embassy of Denmark in Washington, DC, the Ministry of Foreign Affairs of Denmark, and the Ministry of Culture in Denmark. Additional support for the National Nordic Museum's installation is provided by the Scan Design Foundation.
Placed outside of the Museum's main entrance, the Nordic Swan already has proved to be a popular "selfie" stop for those walking along Market Street.
************************************************************************
Dang, I wish I could have seen it. It'll be there til 2023, do you think I'll make it back there by then? Doubtful, 2023 is right around the corner. At least I got to see the cool photo.
ok then,
monday grace.